"Derailed"
Season 1, Episode 1

Air date
November 17, 2015
Story by
Andrew Dettmann
Teleplay by
Andrew Dettmann and Diane Frolov & Andrew Schneider
Directed by
Michael Waxman
Guest starring
Guest appearance: Chicago Mayor Rahm Emanuel
Runtime
42 minutes
Episode Guide
previous
N/A
next
"iNo"
For information on the backdoor pilot crossover with Chicago Fire click here.
The first episode begins with Dr. Rhodes tipping a busker and getting on the "L" train. Meanwhile, the grand opening of Chicago Med's emergency department welcomes Chicago Mayor Rahm Emanuel (guest star). As this happens the train crashes. Connor starts caring for people as soon as it happens and the grand opening is interrupted by the news. They must clear space for the incoming patients. Everyone helps as confusion sets in. Sharon Goodwin triggers the all hazard disaster plan.
Dr. Rhodes drives to the Hospital in an ambulance, he is trying to save the life of a victim. When he gets to the Hospital Dr. Will tries to take over the patient, however Connor tells him he is the new trauma fellow and it's his patient. Sarah Reese hops in to help Connor, but she is clearly struggling on her first day of rotation. The patient's girlfriend arrives at the Hospital and is informed her boyfriend is in a coma. It's later revealed he was planning on asking her to marry him. Connor informs the girlfriend that due to the fact that his brain was without oxygen for a long time he died.
Dr. Manning is treating a young girl who lost her father during the crash. Her mother shows up at the Hospital later on and Natalie informs her that the young girl is stable but that her husband is at another Hospital with serious injuries. Later on, as Sarah is informing the mother that her husband is ok the little girl loses pulse and Sarah activates code blue. Ethan Choi helps Sarah with the girl, he tells her she is not compressing the heart and needs to press the chest harder. However, by doing so she breaks the little girl's ribs. Dr. Choi tells Sarah she just saved the girl's life. She is later on seen leaving the Hospital on a wheelchair and waving at Sarah.
Meanwhile, Dr. Choi and Dr. Halstead deal with a brain dead pregnant patient. Turns out the patient, Gina, is a surrogate and the baby's parents are old friends of her. Everything is alright with the baby, however Gina needs surgery in order to reduce brain swelling, otherwise she won't survive. While the baby parents' read to the baby at the Hospital, Dr Halstead and Dr Manning enter the room to inform them about the brain swelling and that if the medication doesn't work they will have to operate. However, the baby parents' do not consent, at first, to the surgery as it is dangerous for the fetus and they might lose the only chance they have at being parents. Apparently Gina signed a contract with them thus transferring all life decisions to them. Sharon and Halstead gather with the legal department that informs them that if they perform the surgery regardless of the outcome the Hospital will be sued. Sharon finds the baby's mother outside and talks to her. She tells her to make the decision she can live with. They agree to the surgery and everything ends up well with the baby and Gina.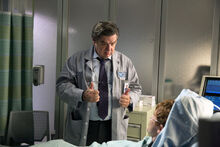 Since all other ER doctors are busy elsewhere, Sharon asks Rhodes to loot at Jimmy. She also asks Maggie to inform Dr. Charles that Jimmy is there. It's revealed that the patient has been in and out of Hospitals since he was 8 years old, his father took off and his mother is an alcoholic. Dr. Charles taught him how to play chess and Jimmy beats him every time. He caught a cold that under his health condition can develop into something a lot more serious. Dr. Rhodes tells Jimmy that his test results aren't encouraging thus he needs to be intubated and put on a ventilator. Jimmy tells him that he has been intubated eight times and doesn't want to go through it once again. When other results are out, Connor informs Charles that he has pneumonia and if that is any chance of survival he needs to be intubated. Daniel defends the boy saying he has been so brutalized over the years that he has the right to say no. In spite of a match for lung transplantation is highly unlikely it turns out Connor's earlier coma patient is a match. However, the patient's fiancée won't consent. Dr. Charles introduces her to Jimmy and she finally consents. They go ahead with the lung transplantation. Jimmy survives and has a chance at a new life.
In the meantime, Natalie asks for more patients saying that exercise is good for pregnant women. She is on her third trimester. April then joins the conversation, telling her that Maggie and her are going to throw Natalie a crib party to help put the baby crib together and help with all the baby stuff.
Later on, Connor is suturing his own wound and April helps out. It's revealed Dr. Rhodes spent a year in Riyadh after his residency and the reason why he has plastic surgeon skills is because saudis paid really well to not leave scars. It's also revealed that he was born and raised in Chicago, but was away for a while.
After a while Christopher Hermann arrives at the hospital carrying a box of victims' belongings and singing to Maggie.
Natalie finds Connor at her hiding spot, the Hospital's roof. They officially meet each other and chat. He asks her if her husband is a doctor too but as her page beeps the questions is unanswered. It's later revealed her husband,
Jeff Manning
, died on a tour of duty in Afghanistan.
Sarah practices central line with a doll. Connor finds her and shares that he also struggled at first to deal with live patients and all it took was practice.
The episode ends with Maggie, April and Manning enjoying the crib party. They seem to be failing at putting it together. The three toast: Maggie and April drinking wine while the Natalie drinks bottled water.
Photos Source: NBC
Ad blocker interference detected!
Wikia is a free-to-use site that makes money from advertising. We have a modified experience for viewers using ad blockers

Wikia is not accessible if you've made further modifications. Remove the custom ad blocker rule(s) and the page will load as expected.