Oliver Platt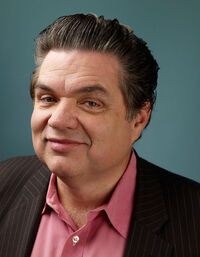 Date of Birth:
January 12, 1960
Birthplace:
Windsor, Ontario, Canada
Biography
Oliver James Platt (born January 12, 1960) is a Canadian-born American actor. He has been nominated for a Golden Globe Award, as well as multiple Emmy and Screen Actors Guild Awards.
Quotes
"The only thing I wanted to do when I was a young naive kid was to become a New York stage actor. I thought that would be nirvana. I think of myself as an actor. If other people want to pigeonhole me, if they want to think of me as a big deal or a medium deal or a small deal, well, that's up to them."
"2005 was a great year for me for fantastic roles that nobody saw."
Ad blocker interference detected!
Wikia is a free-to-use site that makes money from advertising. We have a modified experience for viewers using ad blockers

Wikia is not accessible if you've made further modifications. Remove the custom ad blocker rule(s) and the page will load as expected.